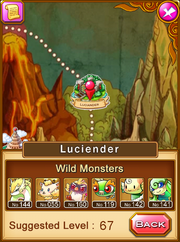 Before Minnie rests in peace, it will give a letter to attend a party in Luciender. Upon arriving at Luciender, you will see a stage performance, a bulu monster named Jaw with his trainer Bob. But when Jaw fails to do his trick, Bob punishes him and you stop it. Bob invites you to fight him at the courtyard, but you defeat him. After that, you see a shadow that heals Jaw's scars, and you decide to follow it. Wind type monsters are to be seen here, including Vingon, the fourth dragon type monster.
Ad blocker interference detected!
Wikia is a free-to-use site that makes money from advertising. We have a modified experience for viewers using ad blockers

Wikia is not accessible if you've made further modifications. Remove the custom ad blocker rule(s) and the page will load as expected.