"Bulu League"
Defeat Trainers in the Bulu League to get Points to level your Division and get rewards!
Arena Event
Bulu League
Edit
Bulu League is an everyday event location that can be found next to the Farm on the travel map.
In order to get inside to fight players, players must give 3 Common Capture Ball to enter the Regular Tournament. This zone enables all players to collect monster tickets (Gold), Item tickets (Silver) and points to level your Division by defeating Trainers! Item tickets can also be bought for 200
each to able to try your luck in the event's lucky draw! By getting specific points you can go to the Legendary Arena next to the Regular Tournament.
Welcome to the Arena Tournaments!
[About the Tournament]
During the Events, you can battle in tournaments in order to accumulate event battle points. High placement in the tournaments to get more battle points.
[Rankings] Overall Ranking The overall ranking is based on the total battle points accumulated during the event period. At the end of the event period, the ranking will be fixed and the rewards will be awarded.
If in the case that there are multiple trainer with identical points, the trainer who had reached the point faster will be ranked higher.
[Rewards] Placement Rewards The placement rewards are rewards awarded based on the placement during battle.
Overall Ranking Rewards The overall ranking rewards are the rewards for the ranking of points accumulated over the whole period of the event! Unlike the other rewards, the points will not reset until the event end.
Placement Reward
Edit
Place
Score
Item Rewards
1st
35pt
Candy x24

Common capture ball x3 Silver Lucky Ticket x1

2nd
20pt
Candy x12

Common capture ball x2

3rd
10pt
Candy x8

Common capture ball x1

4th
8pt
Candy x6

Common capture ball x1

5th
3pt
Candy x3
6th
2pt
Candy x2
7th
1pt
Candy x1
8th
1pt
Candy x1
Battle Points Reward
Edit
Newcomer
| Division | Reward |
| --- | --- |
| Newcomer I | |
| Newcomer II | |
| Newcomer III | |
| Newcomer IV | |
| Newcomer V | |
Legendary Cup Editions
Edit
How to Enter in the Legendary Cup
Edit
Go to the Arena and go to the Battle section.
To the right, you can see an arrow that would lead you towards the front of an Empress-like Girl NPC.
Tap 'Talk' to see the Legendary Cup menu, then tap join (To be able to join in the Legendary Cup you need at least one Common Capture Ball to enter). Another requirement for the Legendary Cup is the accumulated points from the Regular Arena (With the Knight NPC).
Take note, that Legendary Cup Editions have specific releases of time when they start and there aren't one everytime.
| 1st Match | 2nd Match | 3rd Match |
| --- | --- | --- |
| 105 Pts | 140 Pts | 175 Pts |
| 1st Match | 2nd Match | 3rd Match |
| --- | --- | --- |
| 40 Pts | 80 Pts | 100 Pts |
Please do take note that sometimes the accumulated points change. For example, the "Legendary Cup: Telek Edition" requires you to acquire 40 Pts which you need to acquire less Pts to join compare to other Legendary Cups.
Also, sometimes there's some requirements for the elements of monsters that joins the Legendary Cup such as the Legendary Cup for both Psycho and Darken Edition which Psycho Edition requires you to use Spirit element monsters while Darken requires Evil element monsters.

A new Limited Monster is available now!Edit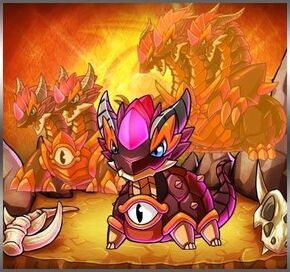 Limited Monster: Sharky - Dragon
Max
: 437
Max
: 317
Max

: 233
Max

: 177
Skill: "Spirit Shroud", First Strike. Block 4 attacks. Increase enemy's attack, defense and speed by 20%
Available until: ~July 31st, 2015
~
Limited Monsters
Pic
Name
Available in
Pic
Name
Available in
Ardio
9/6/14~12/6/14
Glacic
16/6/14~19/6/14
Psychos
23/6/14~26/6/14
Darkery
16/6/14~19/6/14
Ardio
30/7/14~2/7/14
Glacic
7/7/14~10/7/14
Psychos
14/7/14~17/7/14
Darkery
14/7/14~17/7/14
Sharky
21/7/14~24/7/14
Telekent
28/7/14~31/7/14
List of SR Rewards
Pic
Name
Pic
Name
Mutated Telecatchy
Mutated Telefishy
Mutated Rocky
Mutated Firegon
Mutated Vingon
Elecphant
Mutated Ghost
Mutated Snowman
List of HR Rewards
Pic
Name
Pic
Name
Waterdrak
Tiggy
Mutated LionCub
Mutated Winkey
Mutated Bandit
Xmas WizKid
NewYear Cobra
New Year Winkey
List of R Rewards
Pic
Name
Pic
Name
Pumpkin
Trickiz
Troubiz
Mud ell
Fairin
Eggy
Easter Feebit
Valentine Bitterpillar
Xmas Sheepkins
Mutated Pengy
Xmas Pengy
Lunar Cub
Mutated Terrock
Mutated Crabee
Mutated Angeliz
Mutated Pappiz
Mutated Bonevil
Mutated Colbat
Valentine Jomonza
-
List of UC Rewards
Pic
Name
Pic
Name
Dashcorn
Fruity
Crackddy
Sweeldier
Chocomin
Rosamin
Mutated Bookvil
Mutated Lanvil
Mutated Spidervil
Xmas Ice Cub
Xmas Snowie
NewYear Estregot
NewYear Lambiz
NewYear Electricow
Valentine Racoco
Valentine Winnee
Easter Snowtle
Easter Preenie
Easter Cuppi
-
|}
Ad blocker interference detected!
Wikia is a free-to-use site that makes money from advertising. We have a modified experience for viewers using ad blockers

Wikia is not accessible if you've made further modifications. Remove the custom ad blocker rule(s) and the page will load as expected.